The Wow Factor - with Trees (written in Tampa)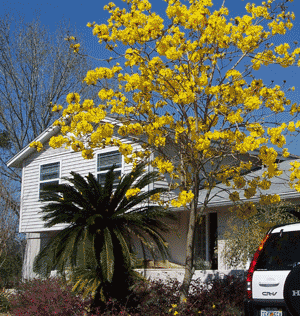 A newcomer to the Tampa Bay area is likely to find a banquet when they are shopping for homes in the Tampa Bay area. High-rise condos, elaborate estates and manicured subdivisions are all available in this diverse and growing market. Most buyers choose their home from a shortlist of preferences that convey not only their lifestyle and relative ease of commuting but allow for their hobbies as well.
It may not surprise you that The National Gardening Association reports that three out of four households in the US participated in one of more outdoor lawn and garden activities in 2004. To many "outdoor lawn and garden activities" can easily be translated into "yard work". But to those of us who enjoy getting down and dirty, gardening is not only therapeutic, but can be financially rewarding as well when it comes to real estate resale values.
Whether buying a new home, or moving into an established neighborhood, there is nothing that can better showcase your home than flowering trees! Trees are a welcome addition to provide aesthetic design, curb appeal, reduce cooling costs, and oh-by-the- way… may actually increase property values! Careful selection can provide trees that bloom throughout the year and put the wow factor into your landscape.
Experience has taught me that most trees planted in this area have been selected from typical new-home landscape packages offered by builders. Most typically, various types of Oak, Queen Palm, Sweet Gum, Sago Palm, Drake Elm, and Slash Pine are offered. (yawn!) Quite frankly these just don't cut the mustard when you want to make your home stand out from the rest. But maybe I can help.
One of my favorites is the Tabebulia (Tab-a-boo-ya) with showy pink or yellow trumpet flowers. These trees are "traffic stoppers" and make a wonderful accent trees. They are freeze tolerant and drought hardy once they are established.
Trees from Australia, which is in the same temperate zone as Tampa, include the Morton Bay Chestnut and Australian Red Flame Tree, which is regarded as one of the most beautiful flowering trees in the world. Both are considered excellent yard trees with growth to 40 feet. Another Australian import is The Desert Cassia with delicate weeping evergreen branches and bright year-round yellow flowers. It is slow growing to 10 feet.
The Brazilian Rosewood (Tipuana Tipu) is a wonderful yard tree that is mostly evergreen. I have one in my backyard. Its broad airy canopy produces golden flowers from spring to summer and grows to 40 feet.
Flowering trees are beautiful addition to a boring me-too landscape and these are only the tip of the iceberg to add the "wow factor" to your landscape and make your home stand out from the rest. Of course, the best time to plant a tree was 50 years ago… the second best time to plant a tree is today.